eCommerce Website
The website works with your point of sale system and synchronise your market place listings
Find out how to set up your eCommerce website in 30 minutes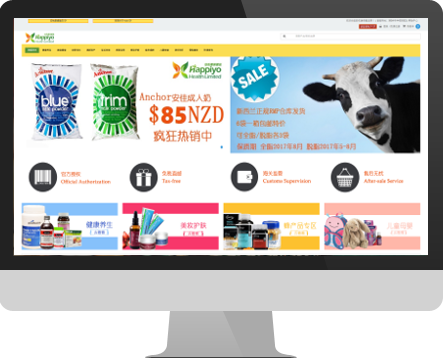 Cross-cultural, multi-language, mobile friendly websites
I have done a few ready-to-use templates. They are instantly available to you and they are free if you use it as a product showcase website or you can upgrade the freebie to an e-commerce site by spending a little bit money to choose a paid plan from NZ$30/month.
My website templates currently supports English or Chinese at the store-front, making it easy for you to target different customers or break into the fast growing Chinese market and accept multiple currencies according to your back office setup. With the e-commerce website upgrade, you may accept Paypal, Polipay (NZ bank transfer with instant notification), Alipay Global and Wechat Pay as customers place an order to you.
If you have the extra budget, we can optionally design your unique e-commerce website from $800 to $3000 and we can usually deploy it to you in one week. I can also integrate with any other 3rd party including payment gateways or other stock inventory management system.
Multiple Store Outlets
If you have tried using WooCommerce or Opencart or other similar's, you might realise that when your business expends to some stage, you could be unable to correctly process your stock inventory or orders as you operate at multiple locations. Although I will agree that those open source systems are a good option for start-ups however as you grow, you will pay a lot of other associated expenses for developers to customise your website to suit your operations. I am a developer myself and I have no problems at all to develop your system using these preferred technologies, but I'd recommend you consider this before your business expends to that stage. With Ivor ERP's build-in eCommerce module, it simply enables you to take orders from multiple store outlets as your customers prefer and correctly process those stock inventory which are ordered on your website.
Multiple Currencies
Multiple currencies feature is probably already a standard for all other shopping cart products in the world. However, as I ran my business a few years ago, this is simply not working quite well for me. For example, we run a business in New Zealand and we normally sell to people in New Zealand in NZ dollars and people in Australia in AU dollars. However, in general situations, customers in Australia is able to afford more expensive prices and we simply don't want to follow the currency conversation rate all the time, such as a product sold for NZ$10 in New Zealand, we sold AU$12 to Australia – this isn't putting Australian people down but considering time to make a more secured package plus printing custom declaration forms and risks of sending international parcels, you simply have to add up the profit margin. On the other hand, something's selling good in New Zealand doesn't mean it is selling good in Australia. For example, I sold those Nude bras before. I could sell NZ$15 a pair in New Zealand but I only managed to sell AU$9 to Australia. I simply can only work well with my own system to precisely set up all these pricing strategies. While choosing those open source website systems is also a good option, problem starts to arise as your business grows.
Multiple Languages
Ivor ERP's build-in e-commerce websites currently support English and Chinese language. Nevertheless, Ivor Software may also provide translation services if required. Please simply look no further if you operate your business in New Zealand or Australia and wish to break into the Chinese community for its fast growing buying powers. If you require other languages, we can also provide you the files of the English language pack, and you can translate them and send them back to us.
Instantly synchronisation over your point of sale and market place listings
As the original idea of Ivor ERP System, it is a standard to immediately update your stock inventory information once a customer has placed an order on your website and if this item has been sold out, the point of sale system may be set up to prevent selling the product in store any more. Ivor ERP will also attempt to update the Trade Me listings (if it still has no bids) to another product from its listing pool to minimise your risk of overselling your goods. Further more, all orders from your store point of sale, eCommerce website or Trade Me will come to the one place for order processing, ensuring that you know exactly an order is awaiting to dispatch and how much you have sold everyday.
Supported payment gateways
Ivor ERP System's eCommerce website currently supports Paypal, Polipay New Zealand, Alipay and Wechatpay with no additional development cost to you. You may also hire me to build integrations with any third-party payment gateways for your website at a small cost.
Free website templates to get you started
If you are not happy with the above templates or have extra budget, please get in touch and I can to build the unique eCommerce website to suit your budget.